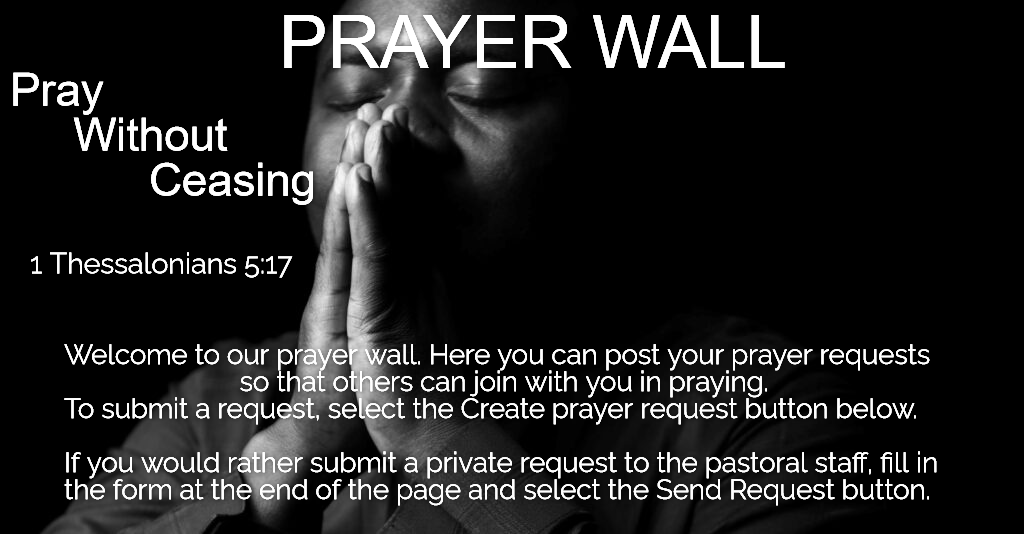 Pastor Ron, April 7, 2021 - 1:33 pm
Please pray for Naomi McIntosh. Matt and Naomi are parents to two beautiful children. Naomi has been diagnosed with stomach cancer which is more serious that previously thought and may have spread. This is a sweet family. Please lift them up with me.
Anonymous, March 28, 2021 - 9:26 pm
Please, pray for Jason & his family to trust Jesus as their Savior and Lord. Let them see Jesus is the way, truth, life, and only way to the Father. Pray that I follow God's direction. Thank you!
Anonymous, March 24, 2021 - 5:49 pm
Anonymous, March 23, 2021 - 3:46 pm
MeLissa King, March 6, 2021 - 7:56 pm
Please keep the Forcums in your prayers and Stacey and Dennis Lyon. Paulette Forcum has been getting worse and is mostly in bed and has gone down hill. Stacey's Dad is still battling an infection. This is all very hard on their family. Thank you!
Pastor Ron, February 14, 2021 - 3:53 pm
Please pray hard for Cindee Brice-Nash. She got some not so great news from her cancer doctor this week regarding a couple of spots that are of concern. This is the daughter of Herman and Dorthy Dill.